Open houses aren't for every home seller, but if you have the right location and a housing market that works in your favor, it can be a great advantage when it comes to selling your house. How can you be sure that you're ready for your open house? Follow these tips before you start to promote the big day.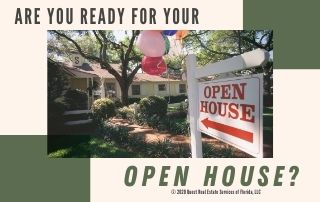 Curb Appeal is Important!
Good Curb appeal may be the most critical factor that causes buyers to want to see your home.  If someone drives by your home and it does not look attractive to them, they often may not go in! Before listing your home, freshly manicure the landscape, clean the exterior house surfaces, especially the front door and walk way.  Don't forget to touch up the mailbox and be sure the house number is easily seen.
Is Your Home Upgraded?
Before you even start listing your home, you should make sure you've completed repairs of everything that needs to be repaired and made upgrades that will give you an edge in the market. Swap out your outdated kitchen and bathroom appliances for more modern ones. Is your exterior paint fading? Time to repaint for a fresh look. Keep your lawn in trim shape and maybe add a few attractive features to boost your curb appeal such as a new door mat to greet your potential buyers.
Have You Staged Your Home?
Staging is a very important whether you plan an open house or private viewings. It can also be a painful process to declutter for most homeowners. You may hate to remove those personal and sometimes worn elements that made your house your own so that prospective buyers can visualize it not as your home but, hopefully, as their future home. Photos, toys and trinkets, and anything personal to your family should be removed so there is no distraction from the space. You may also have to rearrange your furniture to create a layout to appeal to more people, and may even need to remove some of your furniture during the process so to open up space. If you have pets, you'll want to keep them with friends or at a kennel for the day, and make sure to clean up any dander. Your realtor can help you determine what needs to stay and go when staging your home.
Have You Picked the Best Time?
Timing is everything when it comes to planning your open house. If potential buyers have to consider taking time off work to view your house, there's a good chance they'll decide to skip it. The timing should be convenient to the most potential buyers. Sunday afternoon for about 2-4 hours is usually the most popular time. You also want to keep an eye on the weather. If it's rainy or there's some other adverse weather, you might have a smaller turn out than you'd like. Better to reschedule for a fairer weather day than to stick to the original date and expect potential buyers to brave cold or stormy weather.
Once your house looks welcoming, is staged and upgraded and the date is set, time to start printing out flyers with pictures of your house, posting social media events, and spreading the news. Of course, your realtor will be your best resource when it comes to marketing your open house and the listing in general. Talk to a Santa Rosa Beach Realtor today to get ready for your open house.