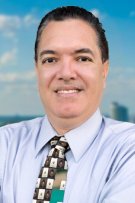 Willy J. Gomez, Sales Associate
Willy Gomez brings over six years of real estate experience in multiple facets of residential second homes and real estate investment to Santa Rosa Beach. This includes extensive professional development gained in a competitive South Florida real estate market. His experience of navigating the market for real estate investors and retirees make him the ideal candidate to list or buy your property in the South Walton and 30-A Beaches market.
Mr. Gomez is bilingual and equally comfortable doing business in both Spanish and English. He is proven to be a highly qualified real estate professional, highly regarded for his business professionalism, knowledge, experience, and impeccable customer service. These strengths are gained as a former executive in various sectors of the hospitality industry after earning a "Bachelor's Degree in Hotel and Tourism Management".
Mr. Gomez's expertise is supported by Quest Real Estate Services of Florida, LLC, a comprehensive real estate firm. Quest has an experienced team of realtors and managers contributing to Santa Rosa Beach's rise as one of the most sought-after markets in the US.
Willy Gomez will help you sell or identify and buy the property you envision at the most favorable price to you.